Getting excited for the release of Emberhawk on March 10? It's been so many years since I wrote the original draft (it must have been 5 years ago). Since then, it's gone through a developmental edit, a full re-write, EPIC alpha and beta teams, another comprehensive edit, a sudden addition of a new POV (I'm looking at you, Imperial Princess Vylia), and two rounds of proofing. Finally, it's ready to be devoured.
Now the endorsements are rolling in and I'm absolutely floored at how positive they are so far!
"Jamie Foley's razor-sharp writing, richly imagined world-building, and deft portrayal of relationships captured me from the start. Emberhawk's danger grips, the humor lands, and the romance smolders. Foley examines the beauties and hardships of pluralistic societies, and themes of faith, duty, and cultural expectations are skillfully woven into the narrative. Whether you're looking for an entertaining YA fantasy romp or something a little deeper, Emberhawk delivers."
               — Lindsay A. Franklin, Carol Award–winning author of The Story Peddler

"Jamie Foley weaves a captivating story that will keep you turning pages late into the night. Emberhawk has all the ingredients of a great book, tied together beautifully: heart-pounding danger, delicious romance, wonderfully complex characters, a fascinating magic system, and an explosive ending. I cannot wait to read the sequel."
               — Catherine Jones Payne, author of Breakwater

"Vibrant characters, majestic worldbuilding, riveting plot twists, and breathtaking descriptions paint an adventure that fully immerses."
               — Abigayle Claire, author of Martin Hospitality

"Foley weaves an enthralling story about love in a world on the brink of war. Though I suppose I should warn you that her captivating world building, vivid prose, and compelling plot are certain to lead to sleepless nights and antisocial tendencies."
               — Elizabeth Newsom, author of Captive and Crowned
And more endorsements are on their way! And I've heard that a review of Emberhawk will also appear in a certain (secret for now) magazine… 😀 I'm soooooo blessed, y'all.
But just in case you might not be as hyped as I am, I've put together a free excerpt exclusively for my audience, which includes the first few chapters:
A starving trapper.
Merciless drought withers Kira's ranch, leaving her family hungry—and desperate enough to cross the border into the forbidden forest to trap wild game.
But the forest is infested with tree-scorpions and giant cats that wield elemental invisibility, and they're hungry, too. When Kira mistakes one elemental creature for another, she ends up with the last thing she wants in her trap: an enemy soldier.
An invisible spy.
Ryon can't afford to be a prisoner of war. If the Malaano Empire extracts his secrets, the rumors of war will be confirmed—and the tribes stand little chance against the Empire unless they can put aside generations of bad blood for the sake of a Tribal Alliance.
When Ryon's escape leaves Kira injured and her livelihood in flames, Ryon must choose between aiding her… or returning to his chieftess with vital information. But can he survive the trek when an elemental pursues him for his rejected heritage?
A sacrificial princess.
Imperial Princess Vylia is given a powerful ancient stone as her wavesinger trials approach. But is the stone's whispering voice from the water goddess, or a masquerading elemental the creator god imprisoned millennia ago?
When Vylia's diplomatic mission to the tribal lands erupts in fiery revenge, she, Kira, and Ryon must work together to survive—or become pawns in the battle of the gods.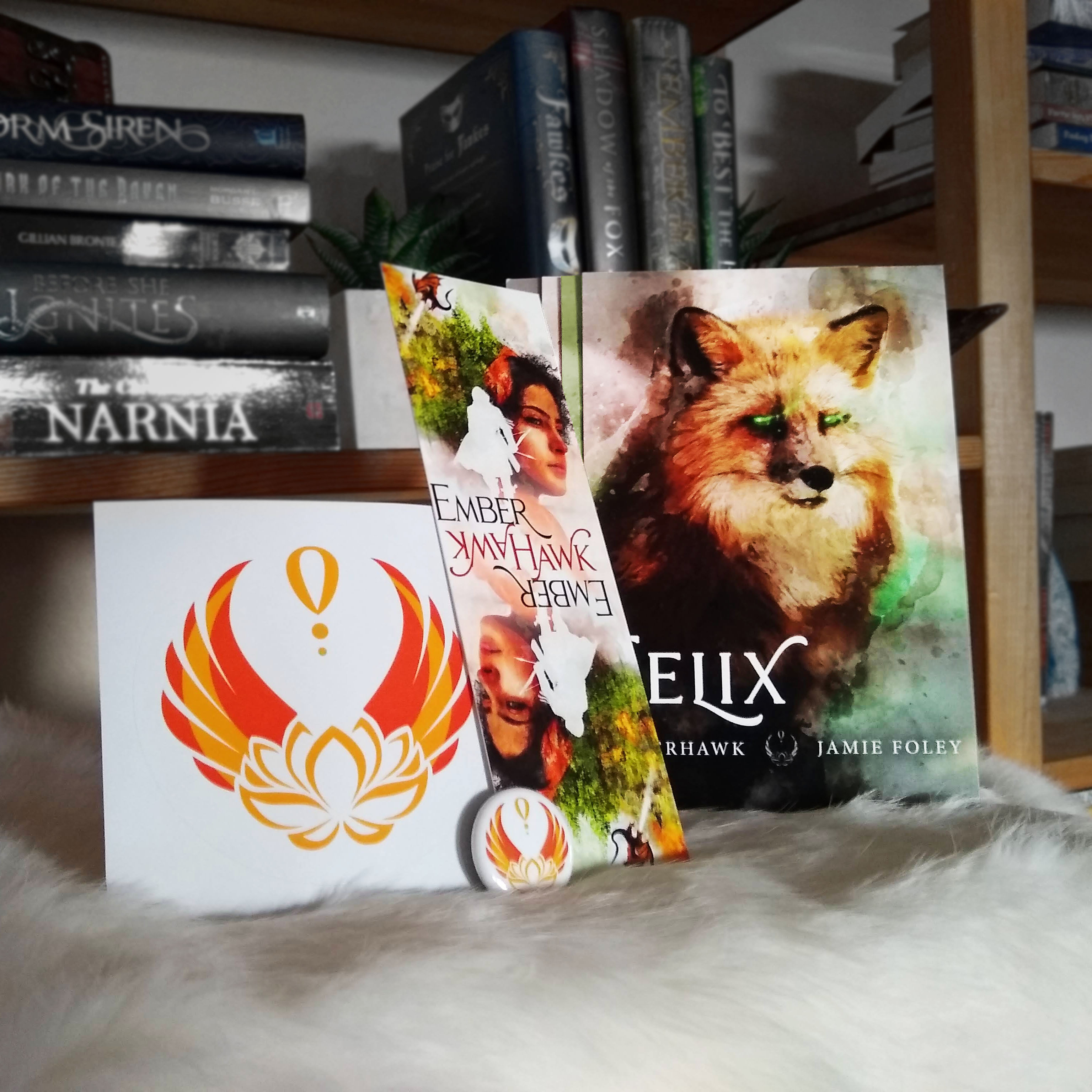 Digital & Paperback ARC Giveaway
How'd you like to get a free copy of Emberhawk over a month before it releases? I'm giving away 10 Emberhawk paperback ARCs with swag packs and 20 digital ARCs exclusively for my audience!
All I ask in return is for your honest review on Emberhawk's page on Amazon.com on launch day: March 10, 2020 (reviews are not allowed until then). Sound like a good deal?
10 autographed paperback ARCs + swag packs
For Jamie's fans who can post an honest review on their own blog, Instagram, Facebook, or Twitter AND post an honest review on Amazon.com on March 10
Winners will receive:

Emberhawk paperback ARC, signed by the author

Bookmark signed by the author

Character art cards

1″ button with The Katrosi Revolution series logo

Sticker with The Katrosi Revolution series logo

Handwritten note from Jamie
20 digital ARCs
For any of Jamie's fans who can post an honest review on Amazon.com on March 10
Available in these formats:

.PDF (for any computer)
.MOBI (for Kindle)
.EPUB (for any other ebook reader)
Enter using the form below for your chance to win! Winners will be selected on February 1, 2020 and notified that same day.