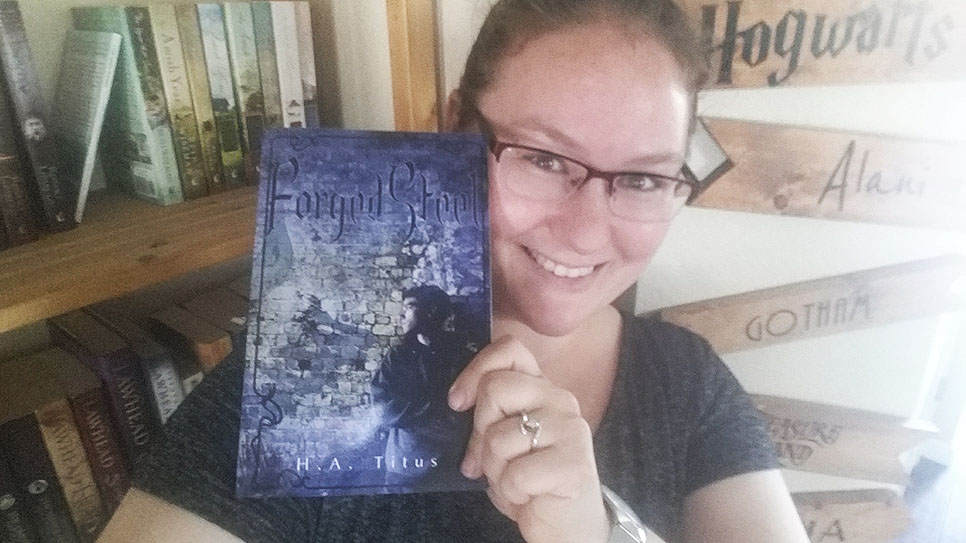 H.A. Titus is a buddy of mine from Realm Makers! I grabbed a copy of her first novel, Forged Steel, at the Realm Makers 2017 bookstore. And I loved it!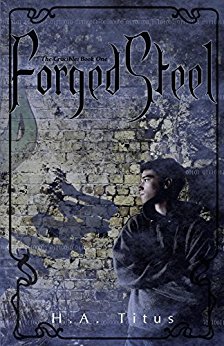 Forged Steel
One minute, Josh is firing off sarcastic remarks at his best friend Marc – the next, they're running from shape-shifters.
About the Book
Jamie's rating: 4.5 stars!
Josh stumbled into the Underworld–rife with backstabbing fae and ancient powers–and he can't get out.
I really enjoyed this Celtic-inspired tale of the fae and their shenanigans. The story is enchantingly unique, from the way the fae interact with technology to the Underworld they scrape for a living in.
Positives:
Great characters–they're very realistic. Girls, I saw Eliaster first, mkay?
Juicy plot line with ancient cyphers, legends, and betrayal. Who can you trust?
Fun dialogue that had me laughing out loud more than once. These people just can't get along! (Everyone always gets along in my books… *cough* Ahem.)
Exciting fight scenes and an awesome slew of baddies to cut through with epic magic swords. Need I say more?
Negatives:
A couple sections dragged for me a little bit, but I'm an adrenaline junkie, so take that with a grain of salt.
I think it could use a tad more editing, but I personally know the author is working on it, so by the time you read this, this note will probably be moot. 🙂
If you love Celtic folklore and Indiana Jones, you'll love this book. Grab it!
---
Offensive language: Extremely mild – nothing worse than 'crap' or 'dang.'
Sexual content: No explicit content. Brief mentions of a female character who uses her good looks to her advantage, but the storyline does not feature a primary romance at all.
Violence: Mild. There are plenty of intense fight scenes, but no unnecessary gore.
Recommended for all audiences 12+ due to the fight scenes and scary situations. Like, don't get your soul sucked away by the void-eyed demon. O.O'